The Institute of Electrical and Electronics Engineers, Inc. (IEEE) was founded in 1884 with handful of practitioners of the new electrical engineering discipline, Alexander Graham Bell and Thomas Edison among its charters members. Today, the IEEE serves 382,435 members who are geographically organized into 10 Regions, over 310 Sections and 800 Student Branches, who conduct and participate in its activities in 150 countries.The men and women of the IEEE are the technical and scientific professionals making the revolutionary engineering advances which are reshaping our world today. The nearly 57,500 student members worldwide are essential to the continued growth and vitality of the IEEE. Not only is the IEEE the world 's largest technical and professional society, it also the largest publisher of electrotechnology in the world. The Institue's worldwide membership is geographically divided into ten Regions. These regions are further subdivided into Sections that serves as the centers of activity for professional engineers at the local level.

IEEE's vision is to advance global prosperity by fostering technological innovation, enabling members' careers and promoting community world-wide.

The IEEE promotes the engineering process of creating, developing, integrating, sharing, and applying knowledge about electro and information
technologies and sciences for the benefit of humanity and the profession. This is done through more then 1200 Student Branches and chapters.

IEEE sponsors scholarships, awareness programs, technical conferences, seminars and local meetings. Furthermore the IEEE publishes over 30 % of the world's scientific literature in its field of interest and provides educational programs to keep its members' knowledge and expertise
state-of-the-art.

Organizational structure of IEEE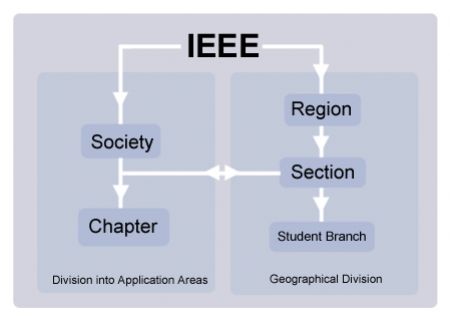 The IEEE organizational structure is divided into two main elements, which are shown in the structure above:



Application areas – the Technical Activities Board (TAB) manages all technical activities and the 41 IEEE societies operate under their supervision


Geographical sections – the Regional Activities Board (RAB) controls the ongoing activities in the 10 different geographical sections. The membership of the IEEE is divided geographically into three administrative units.


Regions – 10 regions exist worldwide. These regions are:
• Regions 1–6 – United States
• Region 7 – Canada
• Region 8 – Europe, Africa and the Middle East
• Region 9 – Latin America and the Caribbean
• Region 10 – Asia, Australia and the Pacific Rim countries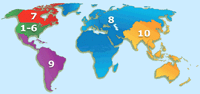 Sections – There are 310 sections, which are subunits of regions, divided geographically to facilitate administration and local activities


Chapters – Chapters are technical subunits of one or more sections. There are 41 different technical societies, which are represented by the chapters in each section. The Tomsk IEEE Units is placed in Region 8, Russia Siberia Section.

The IEEE has 41 different societies & councils. The area of interests is very broad, which reflects the view of the IEEE to share technical knowledge in a broad spectrum. More information about societies is available here.
Societies
IEEE Aerospace and Electronic Systems Society
IEEE Antennas and Propagation Society
IEEE Broadcast Technology Society
IEEE Circuits and Systems Society
IEEE Communications Society
IEEE Electronics Packaging Society
IEEE Computational Intelligence Society
IEEE Computer Society
IEEE Consumer Electronics Society
IEEE Control Systems Society
IEEE Dielectrics and Electrical Insulation Society
IEEE Education Society
IEEE Electromagnetic Compatibility Society
IEEE Electron Devices Society
IEEE Engineering in Medicine and Biology Society
IEEE Geoscience & Remote Sensing Society
IEEE Industrial Electronics Society
IEEE Industry Applications Society
IEEE Information Theory Society
IEEE Intelligent Transportation Systems Society
IEEE Instrumentation and Measurement Society
IEEE Magnetics Society
IEEE Microwave Theory and Techniques Society
IEEE Nuclear and Plasma Sciences Society
IEEE Oceanic Engineering Society
IEEE Photonics Society
IEEE Power Electronics Society
IEEE Power & Energy Society
IEEE Product Safety Engineering Society
IEEE Professional Communication Society
IEEE Reliability Society
IEEE Robotics & Automation Society
IEEE Signal Processing Society
IEEE Society on Social Implications of Technology
IEEE Solid-State Circuits Society
IEEE Systems, Man, and Cybernetics Society
IEEE Ultrasonics, Ferroelectrics, and Frequency Control Society
IEEE Vehicular Technology Society
Councils
IEEE Biometrics Council
IEEE Council on Electronic Design Automation
IEEE Council on SuperConductivity
IEEE Nanotechnology Council
IEEE Sensors Council
IEEE Systems Council
IEEE Technology Management Council
Communities
Humanitarian Technology Challenge (HTC)
IEEE Committee on Earth Observation (ICEO)
IEEE Islands in Second Life
IEEE Women in Engineering (WIE)
New Technology Connections Portal
Online Communities / Technical Collaboration
Standards Working Groups
Join the IEEE and become a member!

HOW TO BECOME AN IEEE MEMBER

To obtain an IEEE student membership you just have to follow some simple steps. Just read through the following instructions carefully. If you still have questions, or you are not sure, feel free to contact us, and we'll be happy to help you.

Am I eligible for IEEE student membership?
IEEE Student membership is open to undergraduate and graduate students who are enrolled in at least 50 % of a normal, full-time course of study in electrical engineering, electronics, computer engineering, or computer science, in an allied branch of engineering technology, or in related arts and sciences. For more information, see membership requirements.

How much does it cost?
Joining IEEE as a student is one of the best financial decisions you will make. IEEE Student Membership includes all the benefits that a regular, full-paying member enjoys, at a fraction of the cost. Furthermore, if you join as a student, you will automatically be eligible for our reduced dues program from the moment you receive your first professional degree. So, what do I have to do?

There are three ways to subscribe to IEEE:
1) Via the Internet - use the online student membership application. (Individual Branch registration is required to apply online.)
2) Download the student membership application in PDF format and send it in. To fill in the application you will need some tips that are provided below.
3) Request an application form online, and have it sent to you via postal service. You can also contact our branch committee and arrange to give you a copy of the form (this is faster!)

What else could I get?
Apart from the basic IEEE membership, you can join various Technical Societies. See a list of all of them, with links to their home pages here. For student membership fees for societies, see the Society and Periodical Student Pricing Structure page.

How to fill out the student membership form:
To ensure that you make no mistakes when you complete the form, it would be advisable to let the branch committee see it (you could arrange a meeting with the secretary).

NOTE 1: Up to April you can only subscribe for a half year membership. That is, in section 5 (second page) you can join any society by ticking the boxes only on the right column (pay half year).
NOTE 2: If you have a credit card, use it to pay for the membership. Otherwise contact us to inform you on other ways of payment.

Membership Renewal and Update
Renew your membership online
Use IEEE Web Renewal to renew your membership online or print a renewal
form for mailing.

Update your member record
To report a change in your matriculation status, including graduation, employment, change of school, or change of address, use the online Graduating Student Data Sheet.

Your IEEE membership doesn't end when you graduate. Get involved in the IEEE YP program. This program is designed to assist you as you develop your career and to help you find your place in the world of technology. To request other changes, including corrections and subscription information, you can report membership record changes.

How to become a member
If you are a student in electrical engineering or computer science at Tomsk universities, you have the opportunity to join the Tomsk IEEE Student Branch. This membership will include a membership to the world largest technical professional society, the IEEE.

Membership fees for students are only $25 for one year. Included in this price is a free subscription to the monthly appearing magazines The Institute and Spectrum. An IEEE membership could been riched by joining one or more technical societies. The annual fees for a society membership start from $5 and include a free subscription to at least one periodical of the society. As an IEEE student member you may join as many societies you wish.

To become an IEEE student member you have to fill out the membership application form. This form and some additional printed information is provided by the student branch representatives. You can also download the student application form.

Additionally, you might order them via fax, phone, or e-mail. After filling out, you should send the application form back to the student branch representatives. The membership fees are normally charged to your credit card. If you do not have a credit card, ask our treasurer for assistance.

Members benefits
Through our monthly meetings and on other occasions you get in contact with IEEE members and working engineers where you can gain information on real life working conditions.

Membership access to the 41 IEEE Technical Societies, their publications and services at discounted student member rates. As a student member you also receive the monthly magazines Spectrum and the Institute newsletter. Take a look into the online versions.

Invitations to attend and participate in numerous technical conferences in a variety of technical interests. Most conferences offer significantly reduced entering charges for IEEE student members.

Access to an everlasting, brief and comprehensive e-mail address like your.name@ieee.org. If you are already an IEEE member, you can get it here. You can also modify/update your existing alias here.

Recognition and cash awards through the IEEE Student Paper Contest.

Scholarships, fellowships and other awards available to IEEE Student members based on merit, IEEE involvement and need.

Access to the world's most comprehensive source of electrical and electronics publications, specialized books, conference records and published standards.

Spectrum Magazine
Spectrum is an award winning magazine for engineers that contains the latest news and info on various subjects covering all areas of technical activities (computers, telecommunications, energy etc.) that are of a more general interest. All other societies of IEEE have their own magazines and newsletters that cover more specific issues. The contents of Spectrum should be easy for any engineering student to understand (as long as there's fluency in English), since the topics are discussed in a manner that intrigues and keeps the interest going even for novice engineers. Nevertheless, two or three years of studies in the field of engineering might be necessary, so that the student has been thought a number of courses (past the basic ones – maths, physics, etc.) that could help in a better understanding of the articles.

Check it out now and go get yourself a membership!

Join the IEEE! IEEE is a good Society!